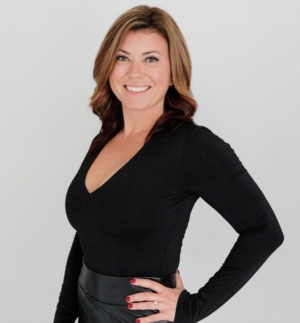 Sarah Smith is a wife, mother of four, Top-Producing Realtor and Entrepreneur. Born in Deland, Florida and raised in Rochester, NY, Sarah is a native Floridian but blessed to call both New York and Florida home.
Sarah started her career in Real Estate in 2006, just a few short years before the mortgage crisis. During that period she was recruited into the mortgage industry because of her proven ethics, honesty and positive energy. Sarah spent her time in the mortgage focusing on the under-served, finding mortgage solutions for people that were being ignored by the other banks. It was here she found her passion for being solution-oriented and working to help all people achieve the dream of home-ownership. To this day her customer-centric, genuine, and caring attitude guides her while representing everyone. During this time she also met and fell in love with her future husband, Jason Smith. Their shared passion for real estate and each other created a synergy that works seamlessly to this day. They found they had opposite strengths so when they combined themselves into one team, nothing was lacking. Sarah remained in the mortgage industry and Jason as a Realtor. They were able to create a new transaction management paradigm that accelerated and refined the process for all customers. Shortly thereafter, they went from a power couple to a family of 6 with Ryland, Maverick, Everest and Scarlett being added to the team. After months and months of speculation of whether they could enrich the team outside of the home as well, Sarah and Jason then decided in 2018 to join forces as husband and wife and theoretical business partners. Sarah's almost ten-year background in the finance industry has helped lead the way to execute a "true" other half scenario in Jason's vision that he had for the Real Estate company, Jason Smith Real Estate. It's often said that Jason drives the bus and Sarah makes him stop, rotate the tires and change the oil. She took the bull by the horns and in 2019, even with it being a partial year, she sped up their buyer department growth and they helped more families than they thought possible. In 2020 Sarah was a Top Producer for their local board her first full year alongside her husband, teammate and true other half and mentor—while also taking care of their four children ages 6 and under.
With COVID-19 challenging us with uncertainty, 2020 brought many new changes to us all—Jason and Sarah included. The cases were on the rise and NY started shutting down. Being deemed non-essential our family and company were left wondering what the future would bring. Many emotions would run through their minds, family being on the top of the list. For the first time in their careers, they would be forced to STOP and analyze. They had no control. Most people would panic, but for some reason, Jason was eerily calm. With family being of top concern Jason and Sarah discussed relocating to Florida, which leads us to today. Sarah and Jason will be surrounded by more family and providing a new life experience for their four children.
A new chapter begins, and the REALTY SMITHS are born. With their 20 plus years of combined experience developing processes, systems, unique marketing, and HARD WORK—Sarah and Jason decided to re-brand and create an expansion market in the Bradenton/Sarasota Florida market.With huge, scary, and audacious goals Sarah and Jason (along with their amazing staff, referral partners and our NY State of mind) will be bringing it to the SUNSHINE state and will now be servicing both the frigid cold of Northern NY and the beautiful sunsets of the Florida Gulf Coast! If you're looking for an expert-level, all-in, 100% Real Estate agent, then I know someone, Mrs. Smith of REALTY SMITHS of REAL BROKER LLC.